HOW TO FASHION SHOOT : by Zack Arp
So before I show you the images, I want to break down this fashion shoot into 3 parts to help you understand how it all came together, to better appreciate the photographs we were able to make as a team ... Those parts are :
1. Pre - Production
2. Photo Shoot
3. Post - Shoot
Pre - Production
Before I ever touched a camera, I was busy meeting with the two clients... GM Studio in Los Angeles to review wardrobe and their goals... and then RVS Eyewear in New York to do the same.
Part of pre-production in fashion, is understanding what pieces you're going to be photographing, and the best way to do that is to pull wardrobe with your stylist (in this case I WAS the stylist!)
Here's the mock up lookbook that I reviewed with the style team in Los Angeles before flying to New York with our wardrobe selections in hand...
Another large part of any photo shoot is location scouting. I already had my location in mind, so scouting was as simple as verifying the street names on google maps, and taking a virtual walk around chinatown via google - earth. How cool is that!
Another important element of the shoot was having a location for hair and makeup. Since I had met a great friend and outstanding makeup artist a month prior to this shoot, Keke, who helped me with my own makeup during NYFW, I asked her and she obliged to allow my models to come sit at the Chanel counter via Bloomingdales, where she managed at the time. Talk about a hook up!
As far as casting the models went, I had a vision for two girls together, and already knew of one friend in the city that would be perfect: Roxy Monroe.
Roxy and I had met the month before during the men's week of #NYFW while at various shows together, so I asked her if she would want to shoot with me and she was in!
The second model however, I didn't find until two days before the shoot, since I was extremely particular about the look of both models and hadn't found anyone during my first casting call before I got to New York. Thankfully, I had the help of two casting directors who pulled some strings and put me in touch with Lisa Marielle! This was the photo Lisa sent over that confirmed she was the perfect fit.
Once I arrived in New York I still had to pull the eyewear that I was going to shoot, so I made a visit to the new RVS flagship to meet with the designer himself, Vidaler. Here are some of the choices we had to pull from :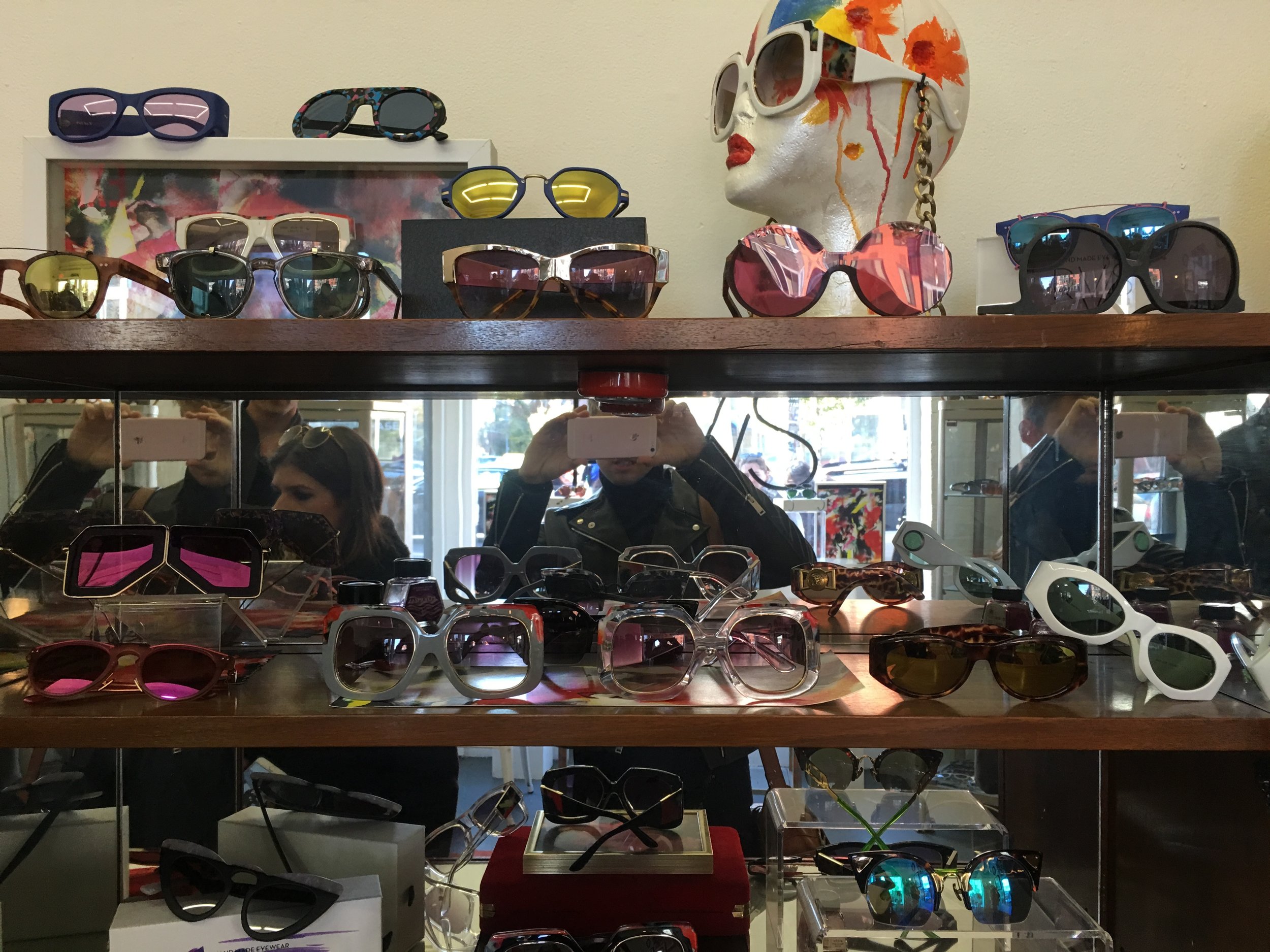 Now that I had secured all of the wardrobe, the locations, the models, the hair and makeup team, etc. we were ready for a photo shoot!
Photo Shoot
During the shoot, I had help from two of my good friends, Bryan and Mae, who made the most amazing assistants. I couldn't have done this without their help!
From the time we started hair + make up with Keke at Chanel until the time we wrapped was only about 3 hours in total. Roxy and Lisa were both incredible to work with and helped speed up the shooting process effortlessly.
Here are some of my favorite images we made that day :
That's a wrap! We all were freezing cold from the wind in Chinatown during the entire shoot... but happy we were able to make some amazing images together. Lisa had a flight to Paris the next day and we said our goodbyes, while Roxy and I made plans to shoot again very soon.
Shortly after we got back to Chanel to thank Keke, I sent a few images over to both clients so they could see a bit of what we had accomplished and share them as well.
I also made sure to ship the wardrobe back to Los Angeles and return the eyewear to RVS before I left the city the next day.
Bonus
Both of the clients were so pleased with the outcome, they let me hang onto a few of the pieces so that I could try modeling them while I was in Detroit.
Mae, who helped me on the shoot in New York came with me to Detroit to photograph these. This was the first time I ever paid to model for a brand!
Thank you for taking the time to read through this! I hope that this post could help share some more insight into the world of fashion for you.
If you enjoyed this, please leave a comment to let me know!
Feel free to comment if there may be anything you'd like to know more, and/or what else I could share in the future.
Xoxo,
- Zack